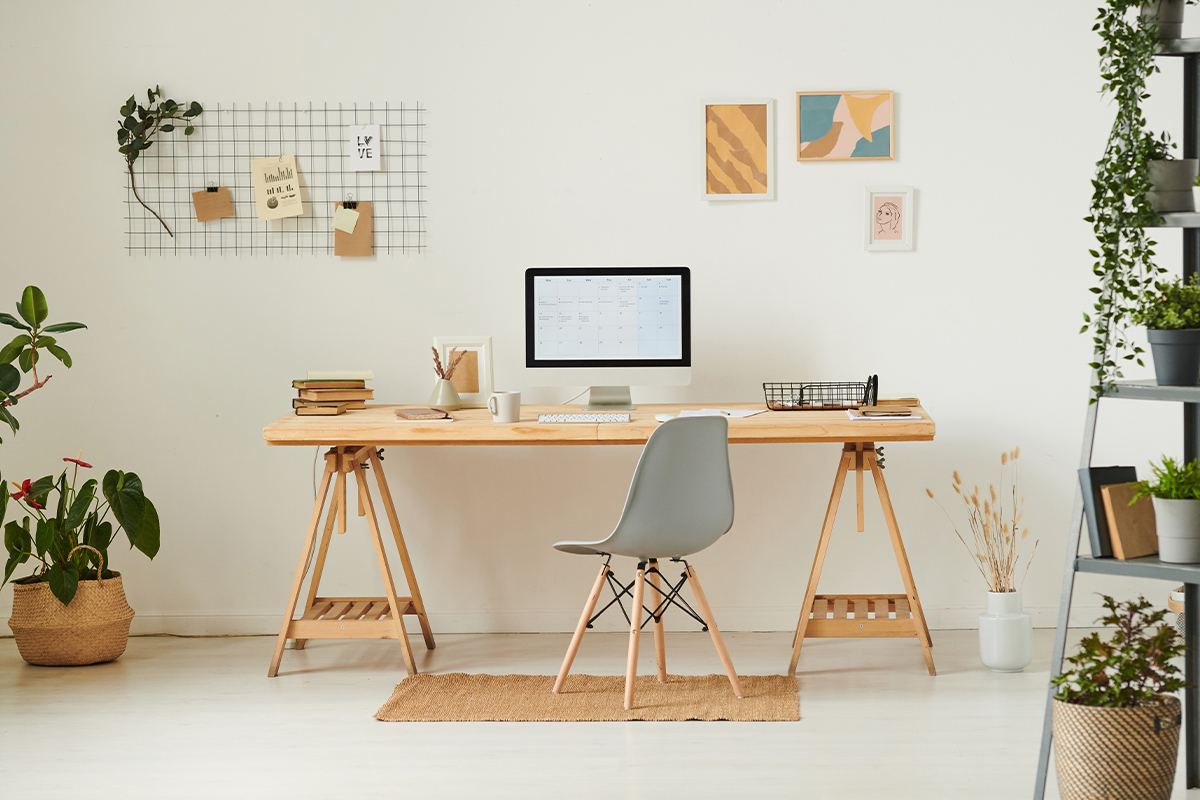 Creating space for your new home office
---
It's been over 18 months since Covid-19 completely changed our understanding of work; from furloughing so many people and forcing millions of others to start working from home through the ever-growing art of Zoom calls. Although we may have all expected things to 'go back to normal', it has become increasingly evident that some things have changed forever… and you'd be surprised as to how many people welcome these changes.
A 2021 study of 1,000 office staff concluded that the majority of workers would 'choose flexible working instead of a pay rise' to return to the office, and that 66% of workers aged 18-35 wouldn't apply for a job unless it offered 'hybrid working'. The study also revealed that 83% of workers would be more likely to apply for a role which offered a flexible way of working.
It's clear that working from home and other flexible solutions are on the rise, and so in turn is the need to create space for your new home office! We've gathered some of our top tips so you can have your own office space in no time.
1. Nooks and crannies – Make the most of them!
Creating the space for a new office doesn't have to be a mammoth task; the space is often staring at you right in the face! Get smart and make the most of the small spaces around the house such as lofts, outbuildings, under the stairs, kitchen corners, and even cupboards! Throughout lockdown we saw so many examples of innovative workspaces at home, and all they took was a simple re-shuffle of furniture and other household bits. It may take a moment to adjust from your fancy workstation in the office, but you'll soon feel productive in your new makeshift, cosy corner.
2. Use vertical space – Fit small shelves
Are you struggling to find the space for that new ring binder? Do you find yourself sifting through piles of paper looking for 'that report you last saw in May'? Well start using all the empty space on the walls around you to store those important things that come in handy down the line. From small shelving units, to hanging baskets, and hooks, there are several ways you can start utilizing the white space around you, so think smart, and start finding things quicker!
3. Recycle – Repurpose mugs, cups, and cans
You'd be surprised how easy it is to spend excessive sums of money on fancy stationary stands, house-plant pots, and other desktop storage units. The truth is that repurposing bits and bobs lying around the house can not only save you that money, but look just as smart on your desk, and fit your office aesthetic! So, whether its repainted tins and cans, artesian mugs and cups, or funky crockery… get creative and start recycling the gems that can complete your desk.
4. Buy a monitor stand – Create smart desktop space
With its ergonomic height, a monitor stand can completely transform your workstation by creating much more workspace; allowing room for storage, more screens, desk phones, or a cheeky afternoon snack (no one needs to know). But aside from the smart space, monitor stands have so many benefits for your wellbeing as you work from home! Its adjustable height means no more neck pain, simply find the height and depth that means no more crooked postures! It can also enhance your focus… dual screens mean more space to spread your work and documents, creating a more immersive workstation and higher productivity.
5. Contact us! – Use M-Store to store large items and create office space
Not everyone has the space in their homes for an office, and if you spend plenty of time working from home, it's important to feel comfortable and productive in that space. That's why M-Store are pleased to offer flexible storage solutions, so you can store the larger items of furniture and clutter that can make way for your fancy new office. To learn more about our storage options, give the team a call on 01726 890880, we'll be happy to chat with you!